By MK McNabb, Marketing Manager

By MK McNabb, Marketing Manager


COLLEGE STATION, TX, November 9, 2022
– Farmer Law PC of Austin, TX is among the top 100 companies from around the world selected for the 18th annual Aggie 100™ which honors the fastest-growing companies owned by former students of Texas A&M University. Farmer Law PC was recognized as number 15 with a compound annual growth rate of 84.371%. The Aggie 100 is founded and sponsored by the McFerrin Center for Entrepreneurship at Texas A&M University.
Founded in 2016, Farmer Law PC leverages immigration law to fill labor shortage needs on behalf of companies. Our goal is to help ensure our clients are fully staffed to meet the needs of their business.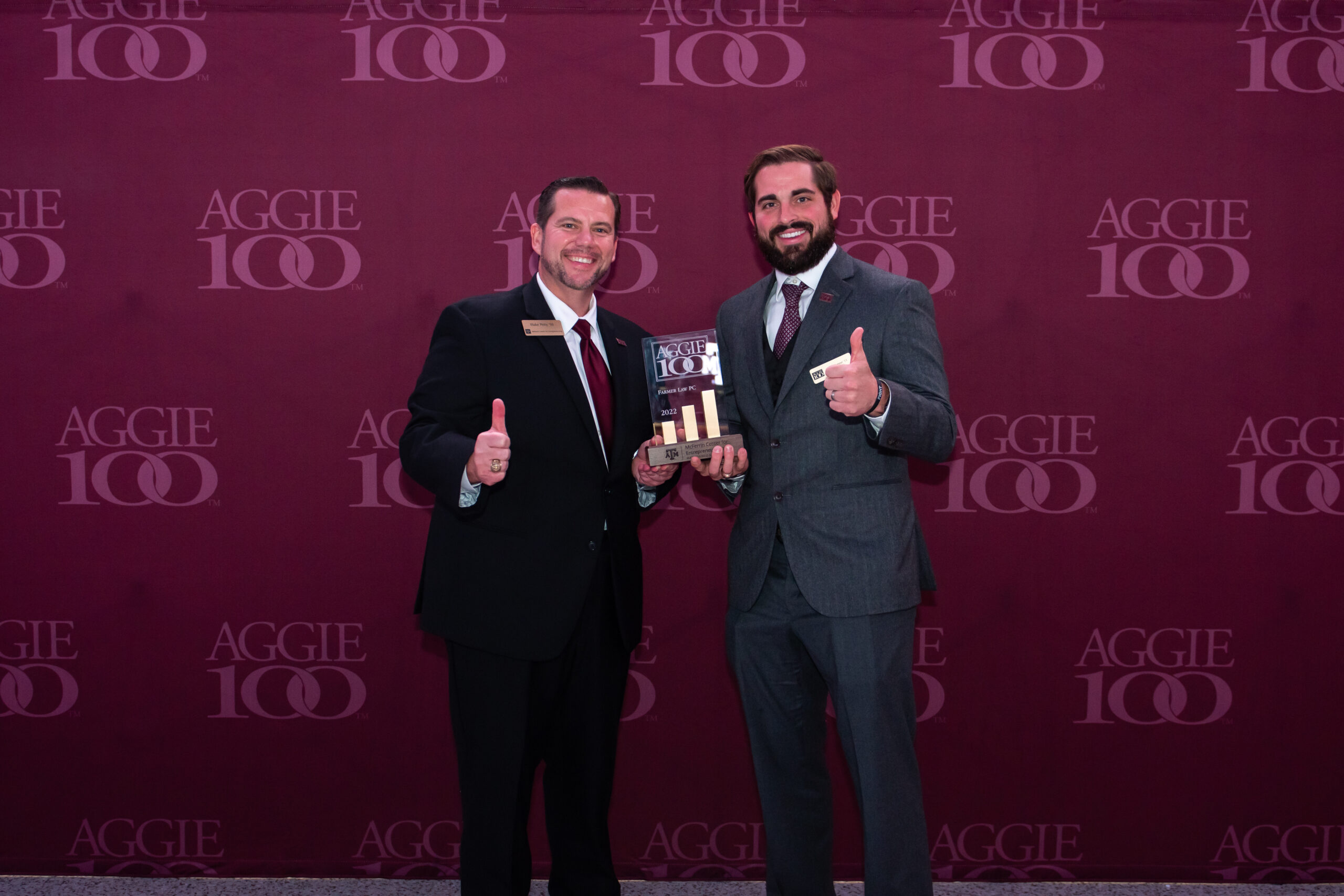 Kyle Farmer, Founding Attorney and CEO said, "Farmer Law PC is honored to be on the Aggie 100 list for the second consecutive year. When my wife and I started the Firm in 2016, we could only imagine the growth and success we have experienced since. We are grateful to be a part of the Aggie Network and to be represented among these other incredible businesses."
The 100 Aggie-owned companies with the highest compound annual revenue growth from 2019 to 2021 were recognized at a formal celebration at the Hall of Champions at Texas A&M University's Kyle Field on Nov. 4, 2022. The honorees were joined in celebration by family, friends, employees, faculty, administrators, current students and fellow entrepreneurs.
"Now in its 18th year, the Aggie 100™ continues to re-set the standard for recognizing and celebrating the best of our Aggie entrepreneurs across the globe. These 100 companies and their Aggie founders and leaders have proven their determination for success, and we're excited to welcome them to the Aggie 100 family. This year saw our second-highest number of applications ever, indicating just how competitive these rankings have become. This 18th class of the Aggie 100 represents the cream that has truly risen to the top, and we're honored to be a part of their company's story and success," said Blake Petty '98, executive director of the McFerrin Center for Entrepreneurship.
A complete list of Aggie 100 companies, including past years, can be viewed at aggie100.com. To learn more about Farmer Law PC, you can visit farmerlawpc.com.
Farmer Law PC's attorneys are adept at navigating every facet of immigration law, offering comprehensive, unique, and strategic solutions for our client's immigration needs. At the end of the day, our goal is to match employers desperate for employees with employees desperate for employers. To learn more or schedule a complimentary consultation, contact intake@farmerlawpc.com or visit farmerlawpc.com.
The attorneys at Farmer Law PC understand the value of a diversified workforce and are adept at navigating every facet of immigration law. We offer comprehensive solutions for all of your labor shortages. Our team locates honest, accomplished workers to provide employers with exceptional talent from every corner of the globe.